I finally got my curry fix hehehe. Last night was curry night, and for that we had reinforcements. Margie & Steph came over to help us prepare this largely Indian feast. Steph & I made a
sambal
of mussels, and Aloo Gobi (a fragrant, mildly-spiced dish of cauliflower, potatoes, peas & tomatoes).
Sambal of Mussels, and Aloo Gobi


The veg was a great foil for the truly evil masala curry that Margie and Ace had whipped up. Not everyone can dig wickedly hot curry and so Ace & Margie also made a milder batch as a special consideration. We went cross-continent for the side dishes: good old
muttabal
, and Ace roasted some of the leftover onions, and there was plenty of cucumber mint raita as our "fire extinguuisher" hehehe. And then there were dried figs and dates for dessert so we started the meal in India, and ended it in North Africa hehe. We were all cross-eyed but happy by the end of it.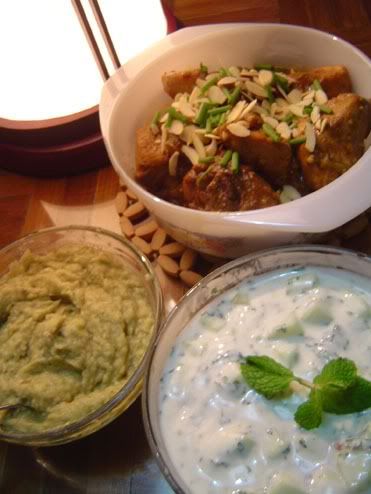 Evil Curried Chicken, Muttabal, and Cucumber Mint Raita
There's already talk of doing a Moroccan night next time. That has got to be some of the craziest cuisine ever! Olive oil, cinnamon, nutmeg, cumin, cardamom, coriander, turmeric, caraway, saffron, olives with the pits left in, and plenty of chilli. You mist it over with lemon, sometimes a handful of fresh mint, then you toss on some almonds or whatever nuts, and dried dates, sultanas, or just plain old raisins. It's insane, and I love it! Oh, and you gotta have couscous. Maybe I'll do a reprise of my fish fillet and couscous in a bag.
Labels: what's for dinner