Wednesday, July 05, 2006
Labels: Dine and Jam
Tuesday, July 04, 2006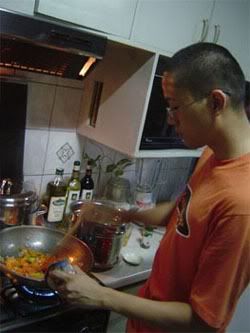 I have a catering gig on Friday,
Dine&Jam
on Sunday, and Papa's birthday party on the 15th so I need to get the creative juices flowing.
I'd been kicking around the idea for this unusual pasta sauce in my head for days. I chose today to try it out and I got so pumped up about it that even though I had some trouble searching for the ingredients that I wanted, nothing could stop me hehehe.
I did have a backup dish that I was also excited about. Indira's comment on the last post had gotten me thinking about doing something
en papillote
again, so I did a bit of ref raiding. This morning's inventory check turned up -among other things - a few potatoes, and some fresh tarragon in danger of drying out.
Even though I had doubts the two dishes I had in mind would pair well, I just knew they would both make really good eats & so I went ahead and made both of 'em.
After two hours in the kitchen, Sarah & I had our
Golden Pasta with Pine Nuts & Dried Apricots,
and
Tarragon Chicken En Papillote.
Just like I hoped, the pasta looked way funky! I dug into that first, and I had to smile. It turned out just the way I wanted it. Maybe a tad too spicy. Though I'm a nutball for spicy food, I intended this sauce to be on the delicate side. Will bring the spice down a notch next time. The apricots were a stroke of genius, if I may say so myself hehehe. The toasted pine nuts gave it just the crunch & nutty flavor I was shooting for.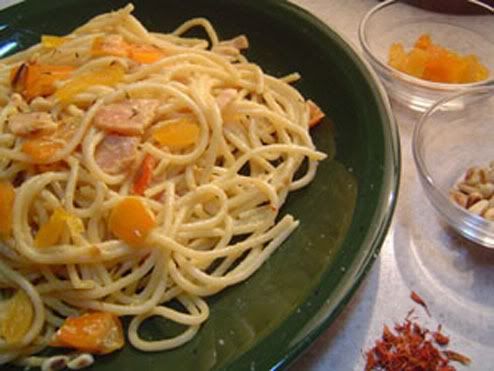 Next, the baked bird. Panalo!
En Papillote is just a fancy shmancy french term for "wrapped in paper." You put all your ingredients into a parchment or foil bag & bake it. I'm a big fan of
cooking in bags
. What I did was parboil some potatoes (well scrubbed so I could leave the skins on, and to conserve water I did the boiling in the same water I was gonna use to cook the pasta). Next I julienned some carrot, sliced up some mushrooms, and seasoned a couple of whole chicken legs. The sauce was orange juice & zest, olive oil, mustard, a nice bit of wine, and of course the fresh tarragon. I divided up into two bags and baked those suckers for half an hour.
P.S. After posting this I woke up in the middle of the night & remembered I had meant to use
herbes de Provençe
on the chicken, but forgot about it come cooking time! Will save that idea for next time.
P.P.S Hey why are my food shots so blurry?!
Labels: recipes, what's for dinner