Nothing tremendously original here; the pairing of fish and citrus is classic, and so is the the garnish of almonds -- amandine (aka almondine) -- but there was some novelty in it for me as I had just learned the technique of mounting with butter. To mount a sauce with butter is a technique where small pieces of cold, unsalted butter are whisked into a pan of sauce just before serving. The butter gives the pan sauce a velvety texture, extra flavor, a glossy sheen and best of all, extra calories hehehe.


On Seafood Day2 in school last week each of us had to prepare a mounted butter sauce, to be graded as a quiz. Our choice of fish, and our choice of sauce. At first I wanted to get really original with the sauce but in the end I played it safe with a simple citrus-amandine. Didn't have much choice in the fish department as I was one of the last to present and stores were low by then. I prepared some norweigan salmon á la meuniere, adding a little crushed almond to the flour. Made a gastrique of shallots, orange juice & zest, and almond extract, and mounted it with butter. Garnished with slivered almonds and zest of orange, lemon, and lime. Served this to Chef Gene: I rated ok.


At home I improved on the dish by going from á la meuniere to full-on almond crusted, using fillets of sole, and serving them with wedges of orange and grapefruit. Other stuff I served that night: blackened tuna, and steamed sole fillets with dill cream sauce. Served this to my family: I rated excellent hehehe.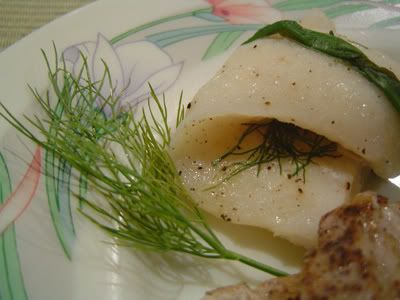 Labels: what's for dinner