Read the rest of this post...

Three weeks ago during our charcuterie sessions Chef Gino gave us some homework: cure some meat at home and submit three weeks hence. This was to be done in the manner of tasso, but unlike traditional tasso, we were not to smoke it. Flavoring and choice of meat was freestyle.

Now curing meat is pretty tricky because the raw meat can go real bad real fast. Here's a funny article from a website I found.


Because smoking meats takes place at a pretty low temperature, the meat can turn sickly and bad while this is happening. To prevent this, you cure the meat first, either by brining in a salt solution, or by rubbing a salt mixture on the meat. In either case, the cure has to sit on the meat for as long as several days. After this, the meat can be safely smoked without anyone dying. Except.

In order to make the meat turn a nice red color, and also to help keep botulism or other sicknesses out of the meat, TCM is added. TCM stands for Tinted Curing Mixture, and is 94% salt, 6% Potassium Nitrite, and some red food coloring to turn it pink. This is so that you don't think that it's salt and add it to food. Why would that be bad?

Well, Potassium Nitrite binds with the myoglobin/hemoglobin in meat/blood, preventing it from binding (later) with oxygen. In meat, this keeps the meat from reacting and turning gray/brown. In your body, it can cause a lack of oxygen in the blood. You can pass out, or even die, if you get too much. In lesser amounts, it can cause "performance problems" in males of the species. Moral of the story? Measure twice.

In the bad old days, Saltpeter (Potassium Nitrate) was used. The problem with using either pure Potassium Nitrite or Potassium Nitrate is that it's very difficult to measure accurately, and you can get too little (and get a bad cure) or too much (and get dead). Because of this, the cure mixes are now cut down with salt, making it much easier to measure for small batches of meat.


Saltpeter is locally known as salitre. I think tocino and longganisa makers still use it. Like the guy mentioned, TCM (a.k.a. praque powder, brand name Ultra Cure) is far safer, and this is what we used. Still, only 1/2teaspoon of TCM maximum should be used per kilo of meat.

So. On to the school project. Our group decided to use pork loin (inexpensive) and to each make our own flavor mixes. I did a bit of research and found recipes for traditional tasso spice mixes.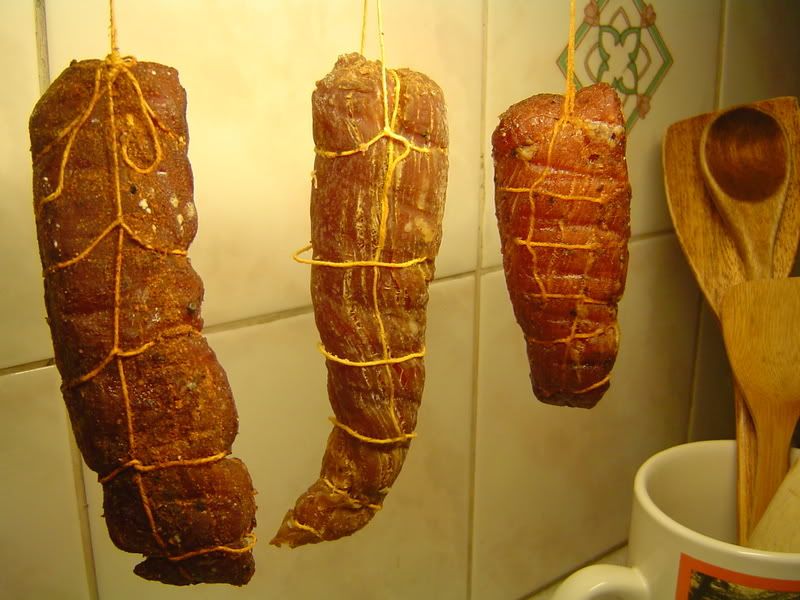 Here is my recipe for (unsmoked) Tasso-style cured meat (adapted from this website). We used a whole pork loin (local name: lomo) cut into about 4-5 inch long, 1/2 to 1 inch thick slices (about 200grams each). This is seasoning for about 2.5kg of pork:



Homemade Unsmoked Tasso Curing Mix


3 Tbsp salt

2 tsp Cayenne or to to taste

4 Tbsp Paprika

1/4 tsp Garlic powder

2 Tbsp Coarsely Ground Black Pepper

1 tsp Cinnamon

1 Tbsp White Pepper

1 Tbsp Brown Sugar

1 1/4 tsp maximum Tinted Curing Mix




Mix the seasoning together well. Rub the seasoning into the meat, you want a lot on there, use it all. Place on a plate or tray, cover with cling wrap and refrigerate 5 days.




Hang the meat to air dry for 2 days. Alternatively you can put the meat on an elevated rack (a cooling rack or a trivet works great) so that air can circulate around it, then put a fan on it for a few hours to dry it out. This is crucial, as moisture is your enemy here. You also need to protect it from flies and other bugs. In this tropical country and in the typhoon season it was especially tricky. I actually had the fan on it for the full 48hours. I also kept a light on it constantly to inhibit mold growth.




Refrigerate. When completely cold portion and store the Tasso in vacuum sealed packages. Freeze.




Makes 2.5kg of Tasso-style cured meat
Labels: recipes