Read the rest of this post...
"To a chef, there is nothing more important than his knife. It is not only an extension of his hands, it is an extension of his very personality. The knife is a chef's paintbrush."

Everyone knows knives are dangerous things, but knives need protecting, too. Blades can go dull from getting knocked around in storage. I wanted to get edge guards: available anywhere - and el cheapo! - in the States, but they weren't available here. I wasn't very happy with the protection my knives were getting from our standard-school-issue chef's kit. If the kit happened to tip the wrong way while slung by its shoulder strap, the knives would slip out of their pockets and knock against each other. On one occassion, walking in the mall, Steph frantically pointed out that my knife's balde was sticking out of the kit! It could've sliced somebody's thigh open!
Solution: makeshift edge guards made from inexpensive plastic folder spines (or whatever you call those things you slide onto file folders to secure the contents). I don't have to describe how I did this. You get the picture. My makeshift edge guards worked ok; they protected both blade and person from damage. They couldn't stay on the blade all that well though, and the curved edge of the 8" chef's knife posed a problem. I attempted to curve a long piece of the plastic folder thing by heating it on the stove but it wasn't the right kind of plastic, and wouldn't shape well. I had to use two segments. Wasn't crazy about the looks but it served its purpose.
Next, I had to customize my kit. All the solutions I came up with involved sewing (not my strong suit hehehe). I considered individual retaining straps for each knife handle sewn onto the kit's body. I considered retaining elastic loops sewn onto each pocket's edge. Finally Mama suggested one long loop that I could wind around each knife handle. I went for this idea because it involved the least amount of sewing hehehe. In the end though it worked beautifully!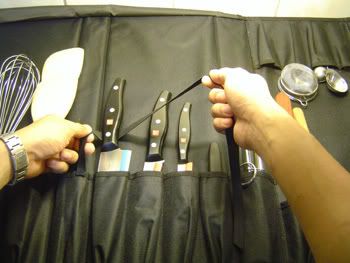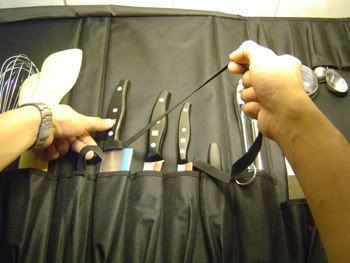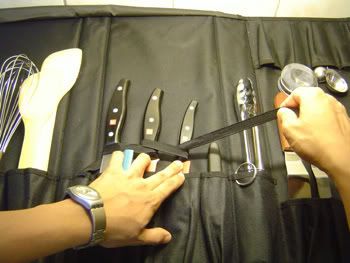 And then a friend gave me a couple of edge guards. Oh yeah!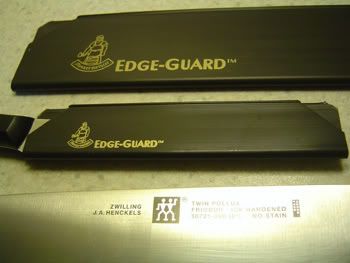 Labels: tools of the trade