Mexican cuisine has always been a family favorite, and yesterday I realized we hadn't done Mexican in a long time. I didn't want to do anything elaborate so I went with the old favorites but as Emeril Lagasse would say, "kicked up a notch!" hehe.
Killer Quesadillas
Chop a bunch of cilantro, and a bunch of chives. Caramelize two large white onions. De-seed and julienne a few green chillies. Toss with lots of grated cheddar and season. Sandwich this filling between two flour tortillas and toss onto a hot pan. Scrunch the quesadilla down while in the pan & the cheese is melting to get it real thin. Toast both sides well--you want this crunchy. Cut into quarters.
Salsa
Bash up some coriander root and sauté in oil. Toss the root out before proceeding. In the same oil saute chopped tomatoes in chopped red onions and garlic. Add lime juice and plenty of chopped cilantro. Season with salt & pepper, and some cumin to give it a little
anghit
factor haha!. Add chopped chili or just blast it with Tabasco.
Serve quesadillas with salsa, avocado slices (or make some guacamole if you like), sour cream, and lime wedges.
Also on the menu last night:
Chicken Fajitas, Pepper+Corn Muffins
(corn muffin batter baked in halved red bell peppers)
Yakon & Fruit Salad.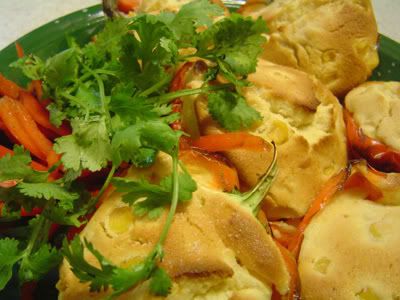 Labels: mexican, recipes, what's for dinner