Some time ago, I had been hired as a chef/consultant for an event along with my friends Ina, Che, and Derick. The event had a very interesting concept that really got us excited. We were to design and execute a menu that fused Filipino street food with fine dining. We designed the menu, went through several revisions to stay within budget, and even did a food tasting for the client. Sadly the event fell through due to budget constraints.
I heard on the grapevine that the event may still push through but we're no longer going to be a part of it. I'm guessing they're getting some HRM students to do it for free. Ah well, chalk another one up to experience.
Anyways I couldn't let a perfectly good menu go to waste so I went and cooked it at home for my family and some of our friends.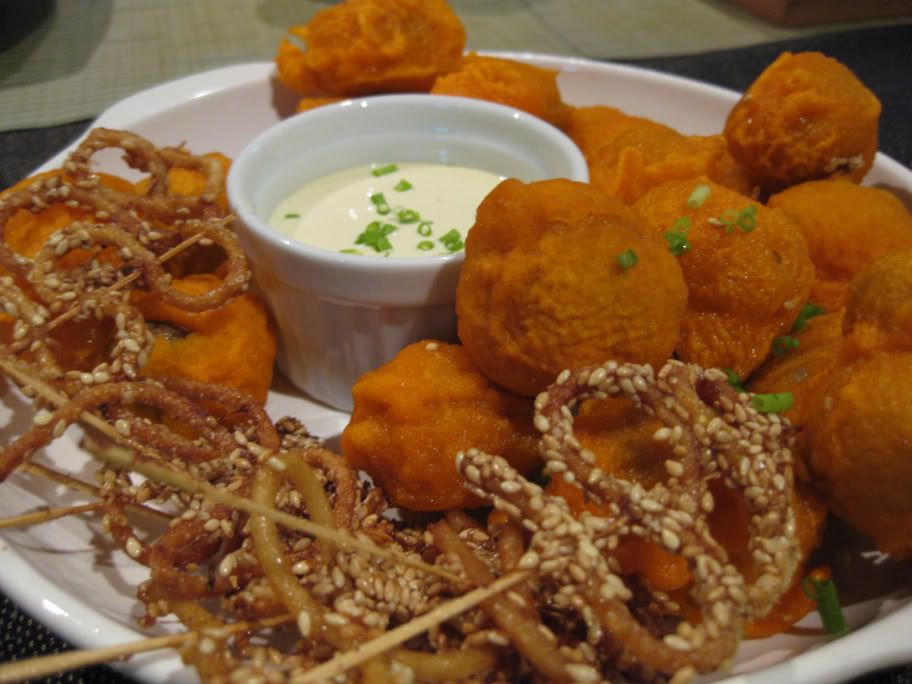 Appetizer: Faux Street Food Platter
The faux kwek-kwek are actually cheese-stuffed champignon mushrooms coated in traditional orange-colored street batter. The faux isaw are deep-fried sesame-soy
bucatini
. The dipping sauce is a simple chive and sour cream mixture.
Salad: Deconstructed Lumpia with Thai Dressing
That's pretty self-explanatory. I made some crunchy baskets out of fried
lumpia
wrapper, and filled them with lumpia filling: carrot, tofu, bean sprouts, shredded cabbage, garlic, minced pork, shallots, baby shrimp, whole roasted peanuts, crunchy fried vermicelli. The dressing: thai
nam pla
, lime juice, minced coriander,
muscovado
sugar, and a touch of chilli.
Roast Pork Belly with Inihaw na Mais Polenta, Street BBQ Style Sauce, and Caramelized Pineapple
Braised the liempo til it was melt in your mouth before roasting it. The marinade (which was also made into the sauce after about an hour of simmering) was pinoy-style BBQ: garlic, onions, soy, vinegar, brown sugar, banana ketchup, and Sprite. The original menu had binatog as the starch but as I couldn't get my hands on any binatog this weekend I just roasted some corn and mixed it into some polenta. Sadly it didn't work as well as the binatog had but it wasn't half bad.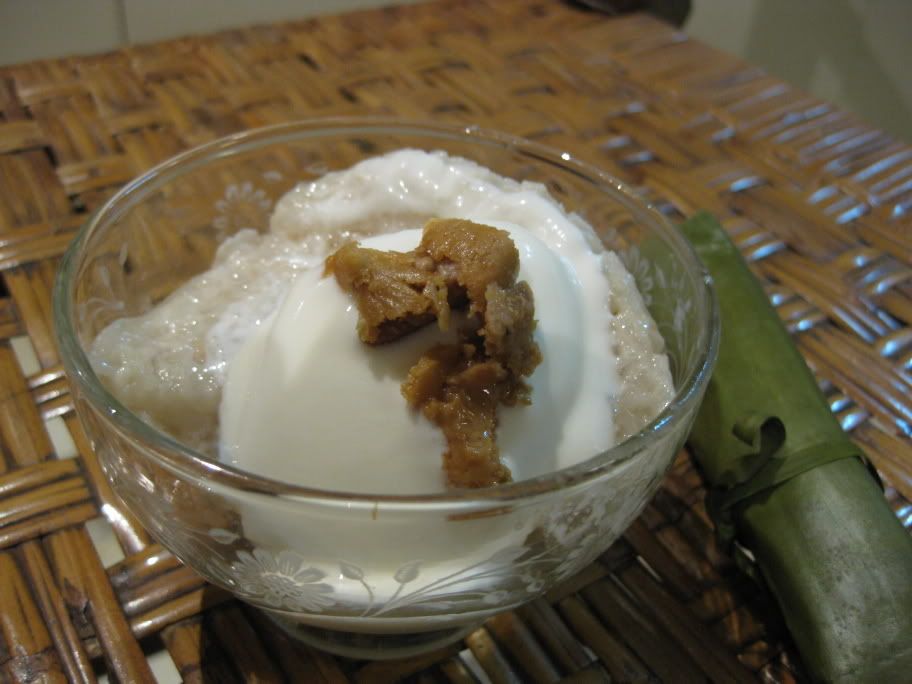 Dessert: Suman with Latik Ice Cream and Panocha
First I made the
suman
(sticky coconut rice cake). Then I cooked down some gata (coconut cream) to make the
latik
. I made some coconut flavored ice cream and folded the latik into that. Topped the suman with a quenelle of ice cream, and sprinkled on some
panocha
(palm sugar) shavings. Delicious!
Credits:
Menu designed by Ina Bilbao, JB Cada, Cheryl Go
Execution by me & Steph with some help from Ace
Photography by Sarah
Food Tasters: our good friends the Esteban Family
Dinner sponsored by my mom hehehe.